LAST UPDATED OCTOBER 25, 2020
YOUR QUESTIONS ARE LISTED FROM THE TOP DOWN IN ORDER RECEIVED
Q – We are, like many of your clients I suppose, going a bit stir crazy. This is written in early June and we are anxious to get away with the family, our two teenage boys, for about a week during this summer or later in the year during the Thanksgiving Holiday. This is all about getting my family a trip they can look forward to and our being together as a family. Whether it is a cruise or a tour does not really matter. What does really matter is the health and safety of my family. We know Covid is real, it is not a hoax as some of the idiots on TV are suggesting So, my question is how do we plan an upscale vacation, with whom, what conveyance, and what is the first step? We live in Ohio and we would love something beachy or visiting islands if possible. We're not big on cruising. Could anything work this August that would meet my safety requirements?
A – We do think that August is pushing it a bit. We want to suggest that you look closely at a Villa rental with housekeeping included. This is one of the hottest current vacation options because it eliminates most of the need for social distancing. You can consider any of the islands in Hawaii, and there are some lovely villa options that are beachfront in Mexico or the Caribbean, particularly the British Virgin Islands. The first step might be to go the web site of the best Villa rental organization, Villas of Distinction. It can be booked through your travel consultant on a complimentary basis but you should review the site first (www.villasofdistinction.com) For your family, this is, in our view, the best option. Beaches and day trips will certainly be available but you will still be able to do the necessary social distancing to achieve your comfort level.
Q – We are planning a road trip to several American cities before we embark on a longer cruise sometime in late 2021 or early 2022. We will, of course, as avid followers of your work, be staying at Mandarin Oriental, Four Seasons, and St. Regis type properties. We keep hearing about "post Covid new normal" but we can't put our finger on exactly what changes will occur in the guest experience after we check in other than the fact that the staff will all be outfitted in masks like the Lone Ranger. Can you give us a quick glimpse at what the coming hotel stay changes might involve? Thanks. So appreciated.
A – This is a rather fascinating challenge for the hospitality industry. In recent years, major brands have tried to walk a very thin line between differentiating properties while meeting expectations in terms of accommodations and policies. But now, the Covid response has to be unified across the brand so guests know exactly what they can expect.
We can get a glimpse into the new hotel normal from some of the policies being discussed by upper management at the Four Seasons in New York and other major lux chains:
The number of "object touch requirements" will be reduced. That means mini-bars will be removed as will extra linens, pillows, and hangers.
Room service, for now, is a not too distant dream.
Restaurant buffets, including breakfast, will become a relic of "past ages".
Communal shared tables will be removed.
Restaurants will be operated at far less than 100% capacity.
Arriving guests may be subject to temperature checks. They will be given PPE equipment.
Early arrivals will likely be given a "Welcome Breakfast Basket"
Spacing in all public areas will be re-designed to provide social distancing.
Room keys will disappear to be replaced by key card entry.
Some properties will begin requiring corona-free certification certificates when they come available.
Gyms and Spas will be re-evaluated with new cleaning and use initiatives. Many will simply be closed.
Room filtration systems will be enhanced and new procedures for cleaning each room are being developed to adhere to current CDC guidelines.
Q – I am in the investment and securities business. Just wondering if you could give me one fact that I might use in a report that will demonstrate the effect Covid has had or will have on the travel industry. We all know it is substantial but it is hard to drill down to get specifics. Looking for your take on the one fact that "says it all". Thanks so much and trust this is not an imposition.
A – Not trouble at all. The one that struck us occurred during the week of April 12th when Covid chaos seemed to reign. The Airline Reporting Corporation processes airline tickets for travel agencies. Comparing the one-week sale of airline tickets for future travel in April 2020 with April figures for the same week in 2019, ARC found a 93.8% decline in the total number of airline tickets sold. These were the "The days that thoughts of travel died". The miracle is just how quickly that trend has been reversed.
Q – I think I just came across a bit of a Covid rip-off and was wondering what you thought before I go off the deep end. Received a mailing from Crystal and they are offering some incredible rates, it says, on a variety of seven-night itineraries including the Rhine, Danube, and even Tulip cruises round-trip out of Amsterdam. The catch is they want all of their money upfront and there is no refund if I cancel. I like a deal like the next person and I know I will find them in Europe if I keep looking, but this pay in full – no refund deal seems like Crystal has decided to cash in on this Covid crisis. Is this something I should be considering or do you agree with my concerns?
A – Not only do we not agree with your concerns -we can't find a single statement in your e-mail with which we can agree. We can't speak for Crystal, but it strikes us that you may be more comfortable traveling with another company – why not wait until Wal Mart starts a riverboat line?
Here are the facts: Crystal has been offering two-for-one rates which brings the price of a one-week river cruise on the top-rated line to somewhere in the vicinity of $7200 per person. Crystal is an all-inclusive line.
There is a current promotion that you are referring to that is priced at half the two-for-one rate. That means you can sail Crystal at a rate of just under $3700 Per Person. To qualify for this rate you are required to pay in full and the fare is non-refundable. We have, quite frankly, never seen a two for one applied to an existing two-for-one offer. These are obviously an attempt to fill Crystal's riverboats in advance of the 2021 season and it is working. The offer is capacity-controlled and many dates are sold out. One of the components of the offer is that you get upgraded to the best deluxe stateroom available.
Is this Covid pricing? We suppose it is. There will be a glorious bouquet of early booking offers arriving in the next two months. In order to keep investors, crew, and shore personnel happy and employed, these boats, as well as ocean-going ships, need to go out at capacity. With offers like the one above, that should not be particularly challenging.
Q – We are 90 days out from our Uniworld Enchanting Danube trip which I'm confident will be cancelled. The first Enchanting Danube cruise listed on the updated Uniworld site starts on September 6. We were wondering what our best option is. I believe if we cancel with Uniworld within 90 days, we get 80% back. Would that be a cash refund?
At this point, as much as we love Uniworld, we are concerned about a different cruise experience or their solvency…. It was recommended that it would be wisest for us to wait for Uniworld to cancel. Does that still hold true considering their cancellation policy?
A – We want to be sure that you are clear that if you cancel today you would lose 35% of the cost of the cruise fare as well as your insurance. However, Uniworld is not going to keep that 35% – instead they will retain it as a future credit. This is much more generous than many of their competitors are offering.
If you cancel within 89-60 days from the departure date you will receive 65% of the fare back to the credit card with which you paid and 35% (the "penalty"), will be held as a Future Cruise Credit. The entire penalty schedule is as follows:
119 – 90 days 20% of the fare
89 – 60 days 35% of the fare
59 – 30 days 50% of the fare
Less than 30 days 100% of the fare
They do have another offer that may work very well for you. If you choose to move your current sailing and cabin category to the same sailing next year, they will honor 2020 prices and allow you to switch with no increase in fare. In fact, you can switch to almost any comparable seven-day sailing (other than September 2021) and book it at 2020 fares.
We don't have the financial crystal ball your question requires but we can tell you that Uniworld is part of a large, successful travel group: The Uniworld Boutique River Cruise Collection is located in Los Angeles and the company operates a fleet of 21 river-cruising cruise ships along the rivers of Europe, Russia, Egypt, and China. Uniworld also has operational offices located in the Netherlands, Switzerland, France, and China. The company is part of The Travel Corporation group, which also includes businesses such as Trafalgar Tours and Contiki Tours.
The consumer media is not reporting one important aspect of this situation. River boat bookings in Europe in 2021 are currently running 6-9% ahead of this same time last year. At Churchill & Turen, we are running into any number of sold out or category unavailable situation in prime season Rhine and Danube sailings. That leads us to not worry very much about the river boat sector as opposed to Meeting Planning or Business Travel operators.
On the other hand, it appears that Uniworld has furloughed about 50% of its US staff. It is difficult to get anyone to answer their phones and refunds, please note, are taking as much as three months to process.
So what do we think you should do? Given the stress this has caused you, together with the fact that the cancellation fee will be set up as a future credit anyway, we would forego the extra 10% you would save by waiting and go ahead and cancel now. But, again, understand that the refund will take several months.
Q – We've traveled, with your assistance, via Tauck several times in the past (including China, Australia/NZ, Spain/Portugal). One of the favorites was Africa (Botswana, SA, Zambia). We enjoyed it so much we'd like to do it again — say September of next year to Tanzania, Kenya, Rwanda. As I'm just starting to even think about this, I first checked out your website here. I noticed that you told someone you wouldn't suggest an African safari trip unless it was with one of eight or so companies. That list did not include Tauck. Can I ask why?
The real question, of course, is air. We live in the DC suburbs and wonder if post Covid the airlift to Africa will still exist. Any idea how we would fly? Should we be worrying at all about the virus for a September trip next year? We read something about Africa being "next". Thanks so much for these Q and A's. Extremely helpful.
A – Let us respond to the second portion of your question(s) first. Travel to Africa at any time in 2021 should not be an issue. If Covid does hit the southern hemisphere it is predicted to occur this summer. By September of next year, you can almost count on a vaccine or appropriate medication.
The routes to Africa have generally been quite profitable for the airlines and slots to fly routes to the continent often take years to materialize. Non-stop service from JFK in New York to Nairobi, a 13 hour, 45-Minute ride on Kenya Airways, will make the trip over easier.
Regarding your choice of tour operators for this journey: There are two sides to any response. The first is that we would have a level of comfort recommending Tauck to you as you used them in South Africa and loved the experience. We can promise you the same general kind of experience with Tauck in East Africa. Tauck's standards are maintained on virtually all of their programs. So that places your question in a unique context.
If you had not experienced Tauck, they would not be our first recommendation. Here is why:
01 – They are not considered a top-tier Africa operator.
02 – They outsource their arrangements throughout Africa and have no on-site offices.
03 – They do not own their own training facility like Micato or A&K.
04 – Their groups are larger.
05 – Given the fact that they do no private arrangements of any kind, their own connections regarding accommodations are on a group basis. Most of the better camps will not allow groups to book their properties. No upscale lodge in Africa wants to be known as a group property.
06 – In terms of medical or other emergency needs, we think that Tauck, with no real office or staffing presence, might not handle things as well. That is not to say we have any concerns about a professional response. It has more to do with the fact that other top operators in East Africa are better connected to the medical community.
07 – The top tier operators tend to attract a more upscale clientele – but that is partly due to the cost.
08 – If there is an issue – Tauck is a big corporate entity in almost every part of the world. A company like Micato does Africa – period. You can reach the CEO on the phone.
09 – The leading Africa operators are tied in to the local communities in ways that Tauck is not. Their charity work is legendary and that makes for all sorts of local contacts.
10 – Many of the guests on Tauck Africa choose the program based on its lower group cost.
Do we think you should not do Tauck again? Absolutely not. We think you should strongly consider them as you know exactly what you will be getting and it is still going to be a truly memorable journey. But we would not suggest you move forward before spending some time on the Micato or A&K Africa web sites and discussing your options with your consultant.
Q – We would appreciate a bit of crystal ball gazing – what do you imagine our new world of travel will look like going forward? More specifically, what can we expect to start seeing in 2021 when we are planning two likely overseas trips?
A – Covid-19 will create systemic change in our industry and it will accelerate some predictable future changes in the way we do business. To succeed going forward, agency groups and suppliers will need to design a new triangular approach to business. The three components are:
Trusted and certifiable cleanliness standards in all aspects of the vacation experience

Privatized luxury in a self-contained setting. Travelers will be increasingly seeking a state of "Splendid Isolation".

An avoidance of parts of the world that are "over-touristed" in favor of new, secondary destinations that have largely been undiscovered. "We were able to be by ourselves with no crowds" will be the expression travel consultants will most want to hear.
A growing number of potential travelers will stay at home and travel virtually as the technology and AI improve to the point that sight, sound, and smell are all part of a virtual walk practically anywhere Google can map. Virtual taste is a very long way off – but know that it is coming.
Hotels will need to dramatically increase the percentage of in-house bookings at the expense of OTA's. They will do this by eliminating some services, such as the check-in desk or sit-down restaurants while making Frequent Guest amenities exclusive to those to book direct.
Airlines will not be able to maintain profitability while eliminating approximately one-third of their seats from inventory. New cleanliness guidelines and the hiring of additional staff to thoroughly clean each aircraft at the end of every segment will require significant price increases. Direct flights will begin to disappear with a growing percentage of travelers required to take connecting flights.
Industry Marketing professionals will be tasked with convincing the public that their brand is more dedicated to maintaining a germ-free environment than others. This is new territory and some critical mistakes will be made.
The World's Top Ten cruise lines will begin to discuss on-board health standards, a once-taboo advertising topic, in creative ways to fight the "Petri Dish" stereotype. Newly constructed ships will be defined by the possibilities they present for private-time onboard luxury.
Escorted tour companies will face some of the most serious challenges going forward as a 45-Passenger tour bus provides less space per guest than virtually any other form of travel. Look for some tours to include several buses rather than one, service that will have to be reflected in the price.
We could go on and on but we hope the above is useful. Of course, the really worrisome thing about all of this is the unprecedented level of uncertainty and the fact that facts don't seem to matter to a growing portion of our population. In the most recent study, a majority of Americans cited Facebook as their primary source of news. Given that, it is hard to predict future travel behavior.
Q – We do want to get away from our mask-wearing neighbors and the idiots who can't afford them to see some part of the world this coming September or October. Wondering how you might rank the safest places to visit right now given the Coronavirus stats. We understand that there may be some cases but we are looking for possible destinations that are safer than staying here in the States.
A – The list is actually growing as we speak but it is wise to remember that the current outlook could change if there is a resurgence of the virus in the Fall with no vaccine yet available. These are some of the destinations we think you should consider:
Q – We're going slightly bonkers – a nice retirement had just begun, I was doing at least 18 holes a day, and then Covid and a college son and daughter are now back at the homestead here in North Carolina. That leads one to begin imagining travel next year, likely back to Italy, this time concentrating on the major cities, Rome, Florence, and Venice where we hope to spend four nights in each. We would likely plan the trip for May if things look good for the vaccine or, perhaps, early October, a time you seem to recommend to your clients for Italy. So while we research – one important question: "What is the current and likely future status of the restaurant scene in these cities? Assuming there is some good vaccine news just prior to the election, will Italy be back to "normale" by the time we travel?
A – This is actually a rather complex question as it is reflective of the uncertainty surrounding upcoming travel for tens of millions of home-bounds seeking to escape. There are signs that dining will return but in some different ways. Previously, Italians in major cities we dining out just about a third of the time. But now, about a third of those people are saying they do not feel safe enough to sit in a restaurant. Like the States, only those restaurants that have been able to design a successful take-out alternative will be able to survive. In Italy, the percentage of small, privately-owned restaurants is much greater than it is in our country. The loss of this summer season combined with a serious drop in local business support, has placed numerous restaurants in a position where survival is unlikely. There are few government programs to save these small restaurants and even three-star Michelins are struggling. Our guess, and it is only that, is that the attrition rate when this is all over will hover somewhere between 30-40%. Most of those failing food enterprises will, however, likely be taken over by a new generation eager to take advantage of some good locations and available equipment. So, yes, you will see some closed doors but, hopefully, some exciting new ones will open. The great thing Italy has going for it is an economy with a centuries-old food chain and much of the product produced in-country. You will dine well – we promise.
Q – Wonder if you can help us with an apparent "disconnect". As we ponder future travel, we see great optimism in the flyers and magazines that arrive in the mailbox every day. There are some great offers and everything seems to be headed in a positive direction. No mention is made of Coronavirus until you turn on the news. We want to plan something wonderful – we need it like everyone else. But there is this lingering suspicion that maybe everything is not so safe and we should forget about this year's Christmas Market River Cruise or the trip to Africa we want to plan for next year. We appreciate the candor on your web sites and wonder if you are advising your clients to stay home for the foreseeable future?
A – We are advising those who ask to remain to delay travel abroad until about the first of September. The real "comfort date" for us, when we would send our own family abroad, is Thanksgiving. Allow us to give you a brief rather than a lengthy response to your question, one that we are asked almost daily:
There are two facts worth remembering:
01 – The United States ranks 84th on the latest ranking of the earth's safest countries. That means that 83 countries in the world are safer to be in than our own. Now we fought that stat, wanting not to believe it, but it is true.
02 – We have the most deaths and the most Covid cases in the world. The most.
One may conclude from these facts that traveling within the United States is less safe and riskier than traveling to a great many countries overseas.
It is always a heart – head decision. We are not salesmen here. You have to do what you feel is best for you. But if it is a "head" decision, travel overseas to a "safe" place may actually be prudent rather than risky.
Q – We are, as are many of your clients we are sure, going bonkers with our stay-at-home orders here in Connecticut. We have spent a good part of our time reading travel books and wondering when we should plan on being able to get away with everything, more or less, falling into place including cruise line schedules, hotels, and airlines. What are you currently, as of May 26th, advising your clients concerning travel overseas?
A – Our unofficial start-up date for the resumption of carefully planned travel is much later than the travel industry is proposing. The industry is seeing July 1st or, at the latest, August 1st as the date when international travel via ship, tour, or independently should resume. We're not there. We think that will be too early and we are advising our guests to look at Thanksgiving as a more reasonable and safer date to use as a starting point for future travel. We foresee additional testing and vaccine delivery delays as well as confusion regarding air schedules and new entry requirements as reasons to put off travel for six more months. We understand that ours is a minority and a rather conservative view and that it runs counter to the general health of a travel industry that seeks to re-boot as quickly as possible. But think our advice is sound.
Q – We are booked on Scenic – that is to say we were booked on Scenic. They canceled our program in Portugal and we now have been offered a Future Credit. We were paid in full and they then canceled because of Covid. I assumed we could get a full refund and now am being told that we can first apply for a cash refund on June 30th, 2023. That is not a misprint. 2023. I think that is outrageous and am wondering what my alternatives might be?
A – It is an unfortunate policy but Scenic isn't the only line with the "delayed refund" component. The idea is that they really want you to use the credit and they figure that by giving you more than two years you will eventually come around to their thinking. At this point, you should write a letter to Scenic's Guest services department and offer specific reasons why you need the cash refund promptly. If you are comfortable doing so, you might want to mention financial needs. This is an obvious cash-flow ploy and for those who are not considering re-booking a really frustrating policy. Send a copy of the letter to your travel advisor so they can advocate and follow-up on your behalf. The fine print allows companies to adjust their refund procedures in extraordinary circumstances so there really is no legal option. Scenic's policies have been noted on www.riverboatratings.com The line has been downgraded given concerns generated by policies of the kind you have pointed out.
Q – We are going to Spain later this year and need to know what kind of new documentation we will need. We are traveling on business and should be in Barcelona and later Seville for about three weeks. Are they requiring any documentation related to the Coronavirus?
A – Not at the present time. You can visit the countries of Europe for 90 days without a Visa using only your passport to travel. That may change if the EU gets concerned enough about US visitors to require proof of Covid-19 immunity. This is a step we will likely see after the first vaccines become available. You should, however, expect to have your temperature taken at least once before you are admitted into any of the members of the EU. If you are lucky, you may get a massage as you pass through security.
Q – We are scheduled to fly to Germany next April to join a cruise on the Crystal Ravel along the Rhine. We keep hearing about airline changes and were wondering what we should do in terms of a timeframe to book our air.
A – We think that September 30 may be a critical date in modern travel industry history. That is the date that the major airline restrictions on trimming staff expire. Airlines had to agree to maintain staffing levels until then to get the government's loan program.
On, or immediately after September 30th, we will likely see American and United cut staff including pilots and flight attendants by approximately one-third. Entire aircraft fleets will be retired. Delta will take three aircraft types completely out of service and will likely sell them. Overseas non-stop routes will be heavily affected.
The changes this kind of airline restructuring will produce are significant and will, going forward, change the travel landscape as some hassle-free routes and flight options quickly disappear.
In your specific case, we would book your flights sometime around October 15th with a plan to reconfirming all arrangements just after the first of February, Given some of the upheaval we are anticipating in terms of aircraft substitutions, canceled routes, and schedule changes, we highly recommend that you engage the services of a Flight Monitoring firm. In late 2020 and 2021, international air travelers will really need this service. The good news is that Germany and Europe in general should have fewer air-related schedule issues than some other regions of the world.
Q – We understand that insurance, specifically travel insurance, will not cover a pandemic of the type we are currently experiencing. We will, as you know, be going on an extended trip next winter that will include time in Bali, the Philippines, Hong Kong, and Japan. But what about a policy for medical evacuation of the type offered by Med-Jet, a company you have recommended in the past. If we get sick, due to the virus, in a remote part of the Philippines, would our Med-Jet policy allow for them to come to get us and medically evacuate us as they would for any other type of illness?
A – No. A Virus outbreak such as Covid-19 is not a covered inclusion in a Med-Jet policy. We are not aware of any of the top-tier insurers who cover this type of virus. Of course, if you were hospitalized with the virus, it is unlikely your local doctors would permit you to be flown home anyway and their authorization is always required for any medical evacuation.
Q – Fascinated by the coverage of NCL as we have an Oceania cruise in the med scheduled for next April 2021. Is there any information you can share that might help me ease my wife's family's concerns about the financial safety of Oceania?
A – All future and potential 2020/2021 Oceania and Regent Seven Seas cruisers should watch the video linked below. It will give you an insider's look at the real picture of NCL's current financing:
https://www.cnbc.com/video/2020/05/07/norwegian-cruise-ceo-talks-raising-2-billion-to-dodge-bankruptcy
Q Thanks for all this information that we haven't seen elsewhere. Wondering about the financial failure of a cruise line. We are booked on a Silverseas cruise, which I believe is now owned by Royal Caribbean, one of the cruise lines as being in financial difficulty. We took out the recommended insurance through Travelex, a company we have used before with very good results. Our cruise is several months away. If Royal Caribbean were to go under, would our insurance cover us under the "default" provisions? In other words, it seems that insurance companies are not covering pandemic-related cancellations. But what about if the pandemic causes the cruise line to go under?
A – Glad you like the site but we still need to point out that your question is less than fact-based. Royal Caribbean has secured additional funding including a sizeable investment from Sadi Arabia's Royal Family which now owns over 8% of the cruise line. Most analysts feel they are well-positioned to deal with this financial crisis well into next year. Given their many years of outstanding past returns, the acquisition of additional capital is not seen as a major problem going forward. The Travelex insurance you took out should offer the following financial coverage for supplier default. You will not that there are two primary timeframes within which coverage is offered. This is fairly standard among the leading trip insurance providers:
Trip Cancellation/Interruption due to Financial Default Coverage
Financial Default of an airline, Cruise line, Common Carrier or tour
The operator provided that:
(1) The insurance was purchased within 21 days of Initial Trip
Payment; and
(2) Financial Default occurs more than 14 days following an
Insured's effective date for the Trip Cancellation or Trip
Q – Call us crazy but we really need to get away and we will be wanting to do a cruise to the Med in the early fall. Is there a list you can provide that explains which cruise lines have canceled their sailings through September and October? We don't believe much of what we read in the media and we are not at all afraid to fly. It doesn't seem that any of these Corona cases started on ships or planes. May we book it with your firm if things work out? We've not been isolating at all and we're fine, in our sixties, and I work out on the beach every morning, here in Jacksonville surrounded by friends.
A – Sorry, we'll take a pass on your business. Sounds like you may not qualify for the common-sense requirement. Here is the latest list, including riverboats and cruises, here and abroad, compiled by USA Today. Do note that this list is likely to change quickly as conditions warrant:
Adventure Canada has canceled all 2020 departures.
AmaWaterways has canceled all sailings through July 31.
American Cruise Lines has canceled all sailings through June 14.
American Queen Steamboat Company has canceled all sailings through June 21.
Avalon Waterways has canceled all sailings through June 30.
Azamara has canceled all sailings through June 11.
Bahamas Paradise Cruise Line has canceled sailings on Grand Celebration through June 13. Sailings on Grand Classica are canceled through July 10.
Carnival Cruise Line has canceled most departures through Aug. 31. The exceptions are sailings on eight ships — Carnival Horizon, Carnival Magic, Carnival Sensation, Carnival Dream, Carnival Freedom, Carnival Vista, Carnival Breeze and Carnival Elation — that are scheduled to resume on Aug. 1. Carnival also has canceled all sailings from New York City and San Francisco for the rest of the year as well as all Alaska sailings.
Celebrity Cruises has canceled all sailings through June 11. Sailings in Alaska have been canceled through the end of June.
Celestyal Cruises has canceled all sailings through June 28.
Costa Cruises has canceled all sailings through June 30.
Cunard Line has canceled all sailings through July 31.
Crystal Cruises has canceled all river, yacht and ocean sailings through the end of June. The line also has delayed the debut of its new expedition ship, Crystal Endeavor, until Nov. 14.
Disney Cruise Line has canceled departures worldwide through June 18. The line also has canceled Disney Magic sailings through July 2 and all Alaska sailings through July 6.
Emerald Waterways has canceled all sailings through June 30.
Hapag-Lloyd Cruises has suspended all sailings and says on its website that it expects that to be case "until mid-June."
Holland America has canceled all Europe, Alaska, Canada and New England sailings for the rest of the year.
MSC Cruises has canceled all sailings through July 10.
Norwegian Cruise Line has canceled all sailings through June 30. Voyages on Norwegian Sun have been canceled through Oct. 18.
Oceania Cruises has canceled all sailings through June 30.
Paul Gauguin Cruises has canceled all sailings until an unspecified date. The line says sailings will resume "in the near future."
Ponant has suspended operations through May 15.
Princess Cruises has canceled all Europe and Alaska sailings, plus cruises in the Canada and New England region, for the rest of the year. It has canceled Caribbean sailings through Nov. 4.
Regent Seven Seas Cruises has canceled all sailings through June 30.
Royal Caribbean has canceled all sailings through June 11.
Scenic Luxury Cruises & Tours has canceled all sailings through June 30.
Seabourn has canceled all sailings into October. The line's five ships will return to service from Oct. 13 to Nov. 20.
SeaDream Yacht Club has canceled all sailings through May 15.
Silversea has canceled departures into June with ships resuming service between June 13 and July 2.
Tauck has canceled all sailings through July 31.
UnCruise Adventures has canceled departures into the third week of May.
Uniworld Boutique River Cruise Collection has canceled sailings through June 30.
Victory Cruise Lines has canceled all sailings on Victory I through the end of June (sailings will resume July 5). All sailings on Victory II have been canceled for the rest of the year.
Viking has canceled all sailings through the end of June.
Virgin Voyages has postponed its inaugural voyage until Aug. 7.
Windstar Cruises has canceled all sailings through the end of June.
Q – We are scheduled to sail the Oceania Marina next March. We are worried about some of what we are reading in the "fake news" and are wondering if ya'all think cruise will actually come to pass. We've been looking forward to it. Thank you. Enjoying all the free information and advice.
A – As things have developed in the past 48 hours, we think you can look forward to your cruise with some degree of confidence. Norwegian, Oceania, and Regent Seven Seas now have enough liquidity to sustain operations for at least a year on the assumption, false, that they will have zero income.
Norwegian Raises $2 Billion; Over 1 Year of Cash If Needed
CRUISE INDUSTRY NEWS – MAY 6, 2020
Norwegian Cruise Line Holdings today announced it successfully secured over $2 billion of additional liquidity in response to impacts of the COVID-19 global pandemic on the company.
The company announced last week it expected a cash burn of $100 to $150 million per month with most of its fleet in cold lay up, giving the company over a year of cash on hand for a worst-case zero-revenue scenario.
Yesterday, the company announced the launch of a series of capital markets transactions, led by Goldman Sachs, to raise approximately $2 billion. The transaction has since been upsized to gross proceeds of $2.225 billion ($2.4 billion if the underwriters exercise their full overallotment options) due to significant oversubscription and demand across all three offerings.
The transactions consisted of (1) $400 million public offering of common equity, (2) $750 million exchangeable senior notes offering, (3) $675 million senior secured notes offering and (4) $400 million private investment from global consumer-focused private equity firm L Catterton.
In addition, a number of cost cutting measures range from layoffs to deferred loan payments on company ships.
Contingent on completion of the transactions, the company expects to have approximately $3.5 billion of liquidity.
This significantly strengthens the company's financial position and liquidity runway and it now expects to be positioned to withstand well over 12 months of voyage suspensions in a potential downside scenario, according to a press release.
Q – Wondering if you would step back and do a bit of "Big Picture" update instead of answering specific questions posed by visitors to your sites as well as Churchill & Turen clients. Where the hell are we at the moment? We are watching the news, in between episodes of "Tiger King" on Netflix, and the travel-related reporting is kind of depressing. Should anyone be planning a cruise at this time?
A – Interesting you reference "reporting". The media has, so far, failed to report that not a single cruise ship ranked in the "Top Ten" has had a Corona-related outbreak. We are always wondering how many of the, quite serious people writing and speaking about the cruise industry have actually experienced a top tier product?
To try to address your broad question:
– The airlines are always going to react to demand. Schedules are flight departure increases are, therefore, almost impossible to predict. We do know that the Europeans will begin traveling again this summer. No one we know thinks that will translate to a huge uptick here.

– The alternative to a cruise vacation on an upscale cruise ship is a pack and unpack vacation using hotels whose cleaning standards are likely going to be less stringent than any of the major lines. There are villas – yes, and private jet vacations which some of our guests prefer. But for most, the alternative to a cruise is a tour and that means bus transportation from place to place. The tour industry has, thus far, escaped industry scrutiny. But consumers are smart enough to give all of the available options a good look as we move forward in a travel age of new realities.

– We think that planning an overseas vacation should begin now but we would recommend putting off travel until after our National Election with the exception of destinations that are on a current downswing in new Covid cases like New Zealand.

– Given the huge profits generated by the three major cruise lines during the past seven year period, we see the potential of new investment in this sector of the industry. We are more optimistic than most about the recovery of the cruise industry, an optimism based entirely on current 2021 booking trends being reported by travel firms throughout the United States. Our concern is not that the travel industry will not come back but is, instead, more about the desire on the part of some to rush the process. This is a great time for dreaming and for refining one's bucket list – it is not the right time to be traveling.
Q – We have a Covid question – we are booked on a Rhine cruise with Crystal in November. We think everything will be fine by then and that America will, hopefully, be back to work. But most of this cruise is in Holland and Germany and we're not sure how quickly Europe will be able to recover. We are thinking about canceling and just staying home where the health care is good and we can eliminate worries about traveling. We are in our early seventies and this would have been our first trip to Europe. We've paid a hefty deposit and we are wondering how we can get a full refund of our money since we are so far ahead. We went on the Crystal web site but it wasn't very clear.
A – We wish you could take this trip. It might be eye-opening. Actually, Holland and Germany have fairly good healthcare systems in place and their management of the Covid outbreak is being applauded in most quarters. The web site is a bit confusing because Crystal has different cancellation policies for cruise ships, Expedition and Yacht cruises, and riverboats. Your cancellation cost should be $500 Per Person if you cancel in the next two weeks.
Q – We have been on fourteen cruises, twelve of them on smaller ships such as Windstar, Lindblad Expeditions, and Sea Dream. We are not seeing much news about these companies. Wondering how well prepared they are, financially speaking, to weather this Covid thing. Our next scheduled cruise is on Lindblad next February.
A – There are so many variables floating past in your question that we will need to offer a more generalized response than you are probably wanting. Of the lines you mentioned, Lindblad seems to be the most proactive in describing its financial reserves and lines of credit. When the big money folks set up equity loans that offer future income potential, stock ownership, and, sometimes, a seat or two on the Board, they are thinking about taking advantage of low stock prices with the possibility of a real upside down the road. A smaller operation, with just a few ships and a few hundred total berths, may not have the kind of potential financial outcome they are seeking in a "bail-out". On the other hand, the smaller the line the less they need to survive on a one-year basis.
Personally, given depressed stock prices and huge potential upside in recovery, we think the big three can be considered "attractive investments" by some of the major financial groups.
Q – The news about our upcoming Regent cruise in October is obviously not encouraging. Is there any late news as of May 6th? We have final payment due in July. Really concerned about the possibility of financial failure, the looming possibility that Covid-19 will still be with us in the fall, and the likelihood that our United flights will not actually operate. Not at all in the mood for this vacation. How do we get our money back? Truly appreciate this site and your willingness to share information we can't find elsewhere.
A – The news below would seem to be quite good regarding the ability of Norwegian Cruise Line Holdings to weather the Covid-19 storm. But several more positive things would have to come together for you to have a viable vacation option in October. We don't think you should wait.
At this point, you have the following options:
01 – Cancel your cruise and lose the insurance (if purchased through Regent). If you cancel soon, you will be in 25% penalty which is just about the value of your deposit. Assume that Regent will be enforcing its cancellation penalties. Cash flow is critical at this time.
02 – Gamble that Regent will end up canceling your sailing. They will have your money but you will likely be offered a full refund or a future credit of 125% of your cruise fare.
03 – Your final option is a bit of a long shot but you will get a same-day response. Choose the same or any 2021 or 2022 voyage you like and have your travel consultant try to get Regent to move the money over to your new booking.
The option you want – a full refund with no questions asked is not available. If you want to pursue the matter we suggest a well reasoned personal letter to the one department at most cruise lines able to skirt stated policy. Send your letter to Guestrelations@RSSC.com We suggest a calm request rather than a rant. Do try to point out why you might be considered an "influencer" who can bring Regent new business with the knowledge that they responded well. If they do get back to you with the refund you are seeking, in violation of company policy, we suggest that you sell the letter on Amazon. There will be heavy demand.
Here is why this sometimes works. Your consultant has clout representing hundreds of clients for the line. But if Regent makes an exception for one of the firm's clients, that sets a precedent for others and can create tension in the relationship. But if you communicate quietly with Guest services, you are an individual and you may get consideration because you are representing a single booking rather than hundreds. We hope this helps.
Norwegian Cruise Line Holdings Ltd. Successfully Secures Over $2 Billion of Additional Liquidity in Oversubscribed Capital Markets Transactions
Well-Positioned to Weather COVID-19 Impacts Upon Completion of Proposed Transactions
MIAMI, May 06, 2020 (GLOBE NEWSWIRE) — Norwegian Cruise Line Holdings Ltd.(NYSE: NCLH) (the "Company") today announced it successfully secured over $2 billion of additional liquidity in response to impacts of the COVID-19 global pandemic on the Company and the cruise industry, including the temporary suspension of voyages, and to safeguard against a further downside scenario.
Yesterday, the Company announced the launch of a series of capital markets transactions, led by Goldman Sachs, to raise approximately $2 billion. The transaction has since been upsized to gross proceeds of $2.225 billion ($2.4 billion if the underwriters exercise their full overallotment options) due to significant oversubscription and demand across all three offerings. The transactions consisted of (1) $400 million public offering of common equity, (2) $750 millionexchangeable senior notes offering, (3) $675 million senior secured notes offering and (4) $400 million private investment from global consumer-focused private equity firm LCatterton.
Contingent on completion of the transactions, the Company expects to have approximately $3.5 billion of liquidity. This significantly strengthens the Company's financial position and liquidity runway and it now expects to be positioned to withstand well over 12 months of voyage suspensions in a potential downside scenario. While this is not the Company's base case expectation, the Company has taken a swift and proactive approach to protect its future given the significant uncertainty and unknown duration of the COVID-19 global pandemic. When the transactions are completed, the additional liquidity alleviates management's concern about the Company's ability to continue as a going concern for the next 12 months.
About Norwegian Cruise Line Holdings Ltd.
Norwegian Cruise Line Holdings Ltd. (NYSE: NCLH) is a leading global cruise company which operates the Norwegian Cruise Line, Oceania Cruises and Regent Seven Seas Cruises brands. With a combined fleet of 28 ships with approximately 59,150 berths, these brands offer itineraries to more than 490 destinations worldwide. The Company will introduce nine additional ships through 2027.
Cautionary Statement Concerning Forward-Looking Statements
Some of the statements, estimates or projections contained in this press release are "forward-looking statements" within the meaning of the U.S. federal securities laws intended to qualify for the safe harbor from liability established by the Private Securities Litigation Reform Act of 1995. All statements other than statements of historical facts contained in this press release, including, without limitation, those regarding our business strategy, financial position, results of operations, plans, prospects, actions taken or strategies being considered with respect to our liquidity position, valuation and appraisals of our assets and objectives of management for future operations (including those regarding expected fleet additions, our voluntary suspension, our ability to weather the impacts of the COVID-19 pandemic, any possible bankruptcy filings, operational position, demand for voyages, financing opportunities and extensions, and future cost mitigation and cash conservation efforts and efforts to reduce operating expenses and capital expenditures) are forward-looking statements. Many, but not all, of these statements can be found by looking for words like "expect," "anticipate," "goal," "project," "plan," "believe," "seek," "will," "may," "forecast," "estimate," "intend," "future" and similar words. Forward-looking statements do not guarantee future performance and may involve risks, uncertainties and other factors which could cause our actual results, performance or achievements to differ materially from the future results, performance or achievements expressed or implied in those forward-looking statements. Examples of these risks, uncertainties and other factors include, but are not limited to, the impact of:
COVID-19 on our financial condition and operations, which adversely affects our ability to obtain acceptable financing in an amount equal to the resulting reduction in cash from operations, and the current, and uncertain future, other impacts of the COVID-19 outbreak, including its effect on the ability or desire of people to travel (including on cruises), which are expected to continue to adversely impact our results, operations, outlook, plans, goals, growth, reputation, cash flows, liquidity, demand for voyages and share price;

our ability to develop strategies to enhance our health and safety protocols to adapt to the current pandemic environment's unique challenges once operations resume and to otherwise safely resume our operations when conditions allow;

coordination and cooperation with the CDC, the federal government and global public health authorities to take precautions to protect the health, safety and security of guests, crew and the communities visited and the implementation of any such precautions;

the accuracy of any appraisals of our assets as a result of the impact of COVID-19 or otherwise;

the ability to obtain deferrals on our debt payments;

our success in reducing operating expenses and capital expenditures and the impact of any such reductions;

our guests' election to take cash refunds in lieu of future cruise credits or the continuation of any trends relating to such election;

trends in, or changes to, future bookings and our ability to take future reservations and receive deposits related thereto;

our ability to work with lenders and others or otherwise pursue options to defer or refinance our existing debt profile, near-term debt amortization, newbuild related payments and other obligations and to work with credit card processors to satisfy current or potential future demands for collateral on cash advanced from customers relating to future cruises;

adverse events impacting the security of travel, such as terrorist acts, armed conflict and threats thereof, acts of piracy, and other international events;

adverse incidents involving cruise ships;

adverse general economic and related factors, such as fluctuating or increasing levels of unemployment, underemployment and the volatility of fuel prices, declines in the securities and real estate markets, and perceptions of these conditions that decrease the level of disposable income of consumers or consumer confidence;

the spread of epidemics, pandemics and viral outbreaks;

our cash runway, lack of plans to file for bankruptcy and anticipated need for additional financing, which may not be available on favorable terms, or at all, and may be dilutive to existing shareholders;

our ability to raise sufficient capital and/or take other actions to improve our liquidity position or otherwise meet our liquidity requirements that are sufficient to eliminate the substantial doubt about our ability to continue as a going concern;

an impairment of our trademarks, trade names or goodwill, including in connection with the preparation of our financial statements as of March 31, 2020;

breaches in data security or other disturbances to our information technology and other networks or our actual or perceived failure to comply with requirements regarding data privacy and protection;

changes in fuel prices and the type of fuel we are permitted to use and/or other cruise operating costs;

mechanical malfunctions and repairs, delays in our shipbuilding program, maintenance and refurbishments and the consolidation of qualified shipyard facilities;

the risks and increased costs associated with operating internationally;

fluctuations in foreign currency exchange rates;

the unavailability of ports of call;

overcapacity in key markets or globally;

our expansion into and investments in new markets;

our inability to obtain adequate insurance coverage;

our indebtedness and restrictions in the agreements governing our indebtedness that require us to maintain minimum levels of liquidity and otherwise limit our flexibility in operating our business, including the significant portion of assets that are collateral under these agreements;

pending or threatened litigation, investigations and enforcement actions;

volatility and disruptions in the global credit and financial markets, which may adversely affect our ability to borrow and could increase our counterparty credit risks, including those under our credit facilities, derivatives, contingent obligations, insurance contracts and new ship progress payment guarantees;

our inability to recruit or retain qualified personnel or the loss of key personnel or employee relations issues;

our reliance on third parties to provide hotel management services for certain ships and certain other services;

future increases in the price of, or major changes or reduction in, commercial airline services;

our inability to keep pace with developments in technology;

changes involving the tax and environmental regulatory regimes in which we operate; and

other factors set forth under "Risk Factors" in our Annual Report on Form 10-K for the year ended December 31, 2019.
Additionally, many of these risks and uncertainties are currently amplified by and will continue to be amplified by, or in the future may be amplified by, the COVID-19 outbreak. It is not possible to predict or identify all such risks. There may be additional risks that we consider immaterial or which are unknown.
The above examples are not exhaustive and new risks emerge from time to time. Such forward-looking statements are based on our current beliefs, assumptions, expectations, estimates and projections regarding our present and future business strategies and the environment in which we expect to operate in the future. These forward-looking statements speak only as of the date made. We expressly disclaim any obligation or undertaking to release publicly any updates or revisions to any forward-looking statement to reflect any change in our expectations with regard thereto or any change of events, conditions or circumstances on which any such statement was based, except as required by law.
Q – We just heard (May 5, 2020) Fox News report that Norwegian Cruise Line is likely to declare bankruptcy. CNBC also had something about the fact that they are in deep financial trouble. We are booked on a Regent cruise in October and they are owned by Norwegian. What should we do? They have several thousand dollars worth of our deposit.
A – There are going to be a number of stories about the failing fortunes of the top tier players in the cruise industry. Smaller than Carnival and Royal Caribbean, NCL, which owns the Norwegian, Oceania, and Regent brands are struggling and cash flow in 2020 in a major issue. Here are three reports that taken together, should give you a sense of the financial status of NCL, Regent's parent company.
Statement from Norwegian Cruise Holdings:
Today the Company has launched a series of capital markets transactions, led by Goldman Sachs, which are expected to raise approximately $2 billion. These transactions are expected to consist of 1) $350 million public offerings of common equity, 2) $650 million exchangeable senior notes offering, 3) $600 million senior secured notes offering and 4) $400 million private placement from global consumer-focused private equity firm L Catterton.
Contingent on completion of the transactions, the Company expects to have approximately $3 billion of liquidity. This strengthens the Company's financial position and ensures it is well-positioned to withstand well over 12 months of voyage suspensions in a potential downside scenario. While this is not the Company's base case expectation, the Company has taken a proactive approach to protect its future given the significant uncertainty and unknown duration of the COVID-19 global pandemic.
Norwegian Cruise Line Aims to Raise $1.4 Billion. Stock Slides.
BARRON'S By Lawrence C. Strauss May 5, 2020 10:32 am ET
Norwegian Cruise Line Holdings is hoping to raise $1.4 billion of new capital through a combination of debt, equity, and an investment from a private-equity firm.
Norwegian (ticker: NCLH), the smallest of the big three U.S. cruise operators, suspended its operations in mid-March due to the coronavirus pandemic along with its peers— Carnival (CCL) and Royal Caribbean Cruises (RCL).
There has been some disagreement about how much cash Norwegian is burning each month as its ships sit idle during the pandemic crisis. But several analysts estimated recently that Norwegian had six to eight months of liquidity remaining with no sailings.
Norwegian on Tuesday said it has begun a public offering of $350 million of ordinary shares and is proposing to sell $650 million in exchangeable senior notes due 2024 in a private offering.
The company's capital raise includes a $400 million investment in exchangeable senior notes due in 2026 to an affiliate of L Catterton, a private-equity firm.
"The cruise industry has been very resilient over a long period of time, driven by strong secular tailwinds and a high level of guest satisfaction," Scott Dahnke, co-CEO of L Catterton, said in a press release.
It remains to be seen, however, just how quickly sailings resume and how quickly customers come back given all the negative press the industry has suffered due to cruise ships that have been stranded with coronavirus-afflicted passengers and crew members.
Norwegian's stock was at $12 and change on Tuesday morning, down some 15% in early trading.
The Centers for Disease Control and Prevention last month extended its No Sail Order until July 24. Carnival announced Monday that it planned to resume North American sailings on a limited basis starting Aug. 1.
Last month Carnival disclosed that it had raised about $6.4 billion of capital, mostly debt.
Norwegian's release announcing the private-equity investment outlined the risks the company faces. Those include "our ability to raise sufficient capital and/or take other actions to improve our liquidity position or otherwise meet our liquidity requirements that are sufficient to eliminate the substantial doubt about our ability to continue as a going concern."
One longtime industry observer called that language "boilerplate material which obviously sticks out in times like these."
The latest capital raise "is going to be very helpful," this person said.
Norwegian to investors: Gimme some money
From The Motley Fool – May 5, 2020
Shares of Norwegian fell 19% Tuesday morning as investors responded to the company's latest actions to try to boost its chances of survival. Even though most of those following Norwegian agree that it needed to make these key moves, some language it used raised the specter of scary outcomes if it can't successfully navigate through rough waters.
Norwegian is looking to raise capital in three ways:
It wants to sell $650 million in exchangeable four-year senior notes in a private offering.

It also wants to raise $600 million by selling senior secured four-year notes.

Finally, it wants to sell $350 million in stock in a secondary public offering.
That all seems straightforward, and it's consistent with what other cruise line operators have done. Both Carnival (NYSE:CCL) and Royal Caribbean Cruises (NYSE:RCL) have tapped the financial markets for much-needed capital. With the companies burning through cash to pay fixed expenses even as their cruise ships sit in port, the need for liquidity has been obvious. Moreover, in many cases, cruise stocks actually gained ground when they sought to raise capital.
However, astute investors who actually read the prospectus for the offerings focused much of their attention on two scary words in the following statement (emphasis added):
The suspension of cruise voyages and decline in advanced bookings, as well as debt maturities and other obligations over the next year, have raised substantial doubt about the Company's ability to continue as a going concern.
Norwegian Cruise Line sees 'substantial doubt' about its future, warns of possible bankruptcy
CNBC PUBLISHED TUE, MAY 5 20208:43 AM EDTUPDATED MOMENTS AGO William Feuer
KEY POINTS
Norwegian Cruise Line said there is "substantial doubt" about its ability to continue as a "going concern" as the coronavirus pandemic wreaks havoc on the industry.

The company also announced it expects to report a loss for the quarter ended March 31 and on the year.

Separately, the company announced Tuesday morning that L Catterton, a private equity fund, invested $400 million in NCL Corporation, a subsidiary of Norwegian.
Norwegian Cruise Line warned on Tuesday that it may have to seek bankruptcy protection if it can't come up with enough financing, saying there's "substantial doubt" about its ability to continue as a "going concern" as the coronavirus pandemic wreaks havoc on the industry.
Shares of the company fell more than 19% in early trading on the news.
In a securities filing, Norwegian said it was in compliance with all of its debt agreements as of March 31, but it couldn't guarantee that it may need to seek waivers from its lenders. If it cannot amend its credit agreements, the company said it is at risk of default, which would trigger the immediate repayment of most of its debt and derivatives contracts. That puts it at risk of bankruptcy.
The coronavirus outbreak, "including its effect on the ability or desire of people to travel (including on cruises), is expected to continue to impact our results, operations, outlook, plans, goals, growth, reputation, cash flows, liquidity, demand for voyages and share price," the filing said. "These factors have raised substantial doubt about the company's ability to continue as a going concern."
It said if it's not able to maintain enough liquidity, "our business and financial condition could be adversely affected and it may be necessary for us to reorganize our company in its entirety, including through bankruptcy proceedings, and our shareholders may lose their investment in our ordinary shares."
The company also announced it expects to report a loss for the quarter ended March 31 and on the year.
Separately, the company announced Tuesday that L Catterton, a private equity fund, invested $400 million in NCL Corp., a subsidiary of Norwegian. Under the agreement, L Catterton will be entitled to nominate one member to the board.
The coronavirus pandemic has brought the global travel industry, and the cruise industry in particular, to a standstill across the world. Norwegian, the smallest of the three major publicly traded cruise companies, said it had roughly $6 billion in long-term debt obligations as of Dec. 31.
In March, the company fully drew down an $875 million revolving credit facility and a separate $675 million revolving credit line. The latter matures on March 4, 2021.
In early March, as the virus spread rapidly among some cruise passengers, the State Department warned Americans against traveling by cruise ship. On March 14, the Centers for Disease Control and Prevention issued a no-sail order for cruise ships, extending it on April 9 until July 24.
"This is the first time that we have completely suspended cruise voyages, and as a result of these unprecedented circumstances, we are not able to predict the full impact of such a suspension on our company," Norwegian said.
The company is preparing to provide cash refunds for passengers whose cruises were canceled. While the company is also offering 125% future cruise credits, it said "approximately half of the guests who have had their voyages cancelled and who have contacted us have requested cash refunds."
Even if guests accept the credit, the company warned of diminished future revenue when the company can resume sailing.
"We cannot predict when any of our ships will begin to sail again or when ports will reopen to our ships," it said. "Moreover, even once travel advisories and restrictions are lifted, demand for cruises may remain weak for a significant length of time and we cannot predict if and when each brand will return to pre-outbreak demand or pricing."
The company also said it is cutting capital expenditures by $515 million and hopes to raise about $2 billion, including the investment by L Catterton, as well as through public stock offerings and bond issuance. The company added that it has furloughed 20% of its shoreside staff.
The news comes after competitor Carnival Corp., the world's largest cruise company, announced Monday that its Carnival Cruise Line will resume some North American sailings on Aug. 1.
Norwegian Cruise Line may go out of business
By Chris Isidore, CNN Business
Updated 9:33 AM ET, Tue May 5, 2020
New York (CNN Business)Norwegian Cruise Line Holdings warned investors that it might be forced to go out of business.
In a filing with the Securities and Exchange Commission Tuesday, the company said its accounting firm has "substantial doubt" about Norwegian's ability to continue as a going concern because of the Covid-19 pandemic.
Companies with this kind of dire outlook are sometimes able to turn things around and survive, although it often takes a trip through bankruptcy to shed debt and other liabilities in order to do so.
Norwegian suspended sailings of its fleets on March 14, along with an industrywide shutdown. That shutdown has been extended through at least June 30.
The cruise industry has been hit particularly hard by the pandemic as there were several high profile ships with multiple people testing positive for the coronavirus. Many died from the disease.
Some ships had difficulty finding ports where they could discharge their passengers.
At this time, guests who cancel a deposited or paid in full booking are being assessed full cancellation penalties. If you are entitled to a refund of your payment to Regent it is unlikely that you will receive the option of an immediate cash refund. For obvious reasons, cash refunds are now taking as long as three months to appear back on credit cards. If the company does declare bankruptcy, your refund would not be paid and you would likely be added to a long list of creditors who would be paid based on a court-ordered formula after the company re-emerges from bankruptcy. For that reason, in most scenarios, you may be better off with a different kind of debt in the form of a future credit which should carry the same weight as cash in any future financial scenario.
That said, bankruptcy is not at all inevitable. There are many other investment groups, in addition to Goldman Sachs, that could find a cruise line like Norwegian extremely impressive given its past financial performance. There may well be a solution forthcoming but, as of today, May 5th, we think your concerns are justified.
Q – It would be extremely helpful if you would share some opinions on those cruise lines or tour operators who seem to be having the most financial difficulty. I realize from a prior response that this is not something you are comfortable doing but there are a lot of us out here who really have no place else to turn. It's not like we can call these cruise lines and get a straight answer regarding their financial status. Understand this is quite complex stuff, but a reading of the field would really be helpful to a great many of your readers. If this is an off-base request feel free to ignore.
A – If we felt we could give you a totally accurate answer we would. Here are a few observations we hope will be useful:
We are less worried about the "Big Three" than most. The CEO of Norwegian Cruise Line (Owners of Oceania and Regent) received annual compensation last year, 2019, north of $18 Million. He earned that by turning in outstanding profits. So when a company like Norwegian goes looking for short-term debt forgiveness or secured loans, they are going to encounter any number of large financial entities that are interested. That can also be said of Carnival and Royal Caribbean.
Our concerns are more centered on smaller or new-to-launch lines such as Sir Richard Branson's Virgin Voyages. Branson is using his beloved private Neckar Island as collateral to secure a loan in the U.K. The new, Scarlett Lady is tied up and when she sails she will embark on some rather standard Caribbean itineraries with a bunch of untested concepts like an onboard tattoo parlor and evening entertainment and dancing hosted by resident drag queens.
Sea Dream Yacht Club only has two older 100-Guest ships. We worry about them.
The big hotel chains will likely survive but there are thousands of small, independent hotels around-the-world that face economic uncertainty.
We think the Airbnb concept is going to have to overcome some deep-seated uncertainties regarding vacations based in the homes of strangers.
Q – We are going on a seven-night cruise to the Eastern Caribbean over the July 4th Holiday. Will MSC require that we wear facemasks aboard the ship?
A – You should certainly bring masks but don't plan on actually sailing in early July. You can wear the masks in the terminal building.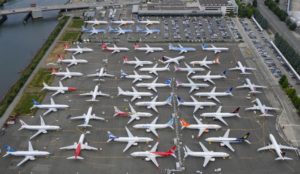 Q – We are scheduled for a trip to Lima and then Santiago in late October. Is it likely the airlines will be flying at that time and how do we protect ourselves with alternative flights should we run into issues?
A – It is impossible to tell you, as of today – April 28th, who will and won't be flying during the last week in October. Our guess is that you will be fine but understand that, at this moment, 15,500 aircraft are parked in remote locations around the world. This represents about 60% of the worldwide fleet that is no longer flying. So it could take several months for crews, schedules, and local officials to reinstate commercial aviation in many countries. For this trip, you need to be working with a flight Concierge service that is monitoring your flights.
Q – We are scheduled to sail in August on Regent Seven Seas. It would appear that Norwegian, the company that owns them, has closed down many sailings and is in some level of financial trouble. For passengers, how much of a concern should this be?
A – There will be small, many small, and some large travel-related entities that will not survive the current and coming economic crisis. In may cases, these will be marginal companies and those firms with huge capital outlays and debt not accompanied by a consistent record of solid stock prices and admirable annual profits (The three largest cruise lines have that kind of record).
In terms of Norwegian, here are some specifics worth knowing:
S&P 500 Company, Norwegian Cruise Line Holdings, is a leading global cruise company which operates the Norwegian Cruise Line, Oceania Cruises and Regent Seven Seas Cruises brands. The Company has a combined fleet of 28 ships with nine ships on order through 2027.
In 2019, the Company recorded its sixth consecutive year of record Revenue and Earnings per share. This record financial performance included record revenue of $6.5 billion and Adjusted Net Income of $1.1 billion. Despite being the 3rd largest cruise operator, the Company has consistently led the industry across all Net Yield metrics with 2019 marking the seventh consecutive year of Net Yield growth. The Company is known for its long-standing track record of strong financial performance which includes over a decade of financial growth.
In anticipation of the possible suspension of voyages and to insure a quick resumption of service as soon as practicable, the Company acted swiftly to increase its liquidity by securing a new $675 million revolving credit facility, bringing its total revolving credit availability to $1.55 billion, which puts it in a better position to withstand the adverse financial effects of COVID-19.
Q – Are cruises going to be operating normally in the near future?
A – No. Ships are, at this moment, being tied up for a sustained dry dock period. There are currently eight ships en route to Asia carrying crew members home to Jakarta, Manila, Bali, and Hong Kong. This is indicative of prolonged disruption in normal cruise operations. We think that having crew return to their ships while having vessels ready to resume normal schedules is a matter of months – not weeks.
Q – What about the airlines. Will they be back in service for trips later this summer and the fall?
A – That is an open question although parked aircraft can be made flight-ready in a matter of days. But look at the month of March at the New York area's three major airports – take-offs and landings are down 85%. International flights are down significantly.
Q – Are there parts of the world that are still really safe to visit?
A – There are no reported cases in Antarctica. But there are also no hospitals or drive-up clinics. African safaris are operating normally and there is positive news about the manner in which Kenya and South Africa particularly, have responded to the virus. There are areas of South America that are relatively untouched. Some of our clients are renting Villas or yachts for self-isolation in the most comfortable situations. Bookings for Christmas Market river cruises are strong. Currently, Turkey, Barbados, Jamaica, Mexico are enjoying a fair number of foreign visitors given relatively low numbers of Covid-19 cases. Iceland has been named as a country that has handled the challenge extremely well. The way they have done this is to assign entire teams of their best police detectives to identify and bring in suspected carriers for testing.
Q – Which cruise lines are in the most serious financial situation?
A – Analysts are not united in their opinion but the ones we listen to seem to feel that Norwegian Cruise Line has the least cash on hand with Royal Caribbean second, and Carnival in the stronger cash-flow position. These three companies control 81% of the market. Carnival is owned by the Arison family and its founder is based in Israel. They have just announced an infusion of capital from the investment arm of the Saudi Royal Family which, as of this moment, owns 8 ½% of Royal Caribbean. Cash flow is really the issue for these lines and, given the massive profits and stock price growth over the past decade, we think that loans and cash infusions are going to be available. The staying power of these three lines without any cash infusion is currently estimated at nine to fourteen months.
Q – What about Crystal Cruises? Are they in better shape than the largest three brands?
A – You could make that case. Genting, the Malaysia-based shipping corp. that owns them has deep pockets. But last Friday, Crystal aid off approximately one-third of its US-based office personnel.
Q – We do not cruise but we take top-ranked escorted tours with Lindblad, Tauck, and Abercrombie & Kent. Will they make it?
A – We think so. Lindblad just received a major cash loan. A&K and Tauck are widely diversified and are privately-held so accurate numbers are not available. But we think a tour operator is different than a cruise line because they have far less capital investment in the products they sell. A&K does not own the hotels or the tour buses it uses. It does not own the boats or the small ships it uses for its programs. These are really companies that package and market other people's products so exposure and risk are reduced.
Q – How will we know if a program you have us booked on is canceled and what our options are?
A – We have a well-designed process in place that will allow us to receive the information on a priority basis and notify you within a three-hour timeframe. This includes weekend notifications. We will then follow up to make certain you have received the information. We have asked that each of the members of our ETCC be included for direct notification by all of the major cruise lines and tour operators.
Q – Will your advice be to wait until the supplier announces cancellation in all cases?
A – No. Each of our clients is entitled to receive our best advice regarding the most prudent strategy to follow. There could be a scenario where that would not be to wait patiently – but in the vast majority of cases that is exactly what you should do.
Q – As I understand it, these FCC's allow the cruise line to hold on to our money and they will give it all back to us plus another, say, 15% for re-booking the same trip next year. Do I have that right?
A – Yes. They are helping solve their close-in cash flow issues while paying you far more than you earn in a savings account for your support. It really is a win-win.
Q – We are going to be sailing, hopefully, I might add, aboard the Crystal Symphony in November sailing from Mumbai to Singapore on the 16th. We are wondering if there is any doubt that this cruise would operate and whether you might identify any irregularities we might notice aboard the ship in terms of normal Crystal procedures? I did not know about you before discovering this site and we did not book with your firm – a mistake we intend to correct when next we travel. Thanking you in advance.
A – You've selected a wonderful itinerary so perhaps your current agent is better than you are imagining. We think this cruise is "Highly Likely" to operate and it remains heavily booked. In fact, Singapore, and Thailand to a lesser dgree, have been praised for handling Covid-19 rather quickly and rather well. Singapore will be used as a case study of what "to do" in future situations that are similar. We can now identify certain procedural changes you are likely to notice soon after boarding. To begin with, if you are age 70 or above, you will need a "Doctor's Certificate" to be permitted to travel aboard Crystal ships. Capacity on Crystal's tour motor coaches will be limited to "half capacity", something we think all cruise lines should implement. Expect that all "self-service" buffets, including the often "incredible" upper deck evening buffets to be completely eliminated. One of the ways that guests will be able to identify those cruise lines most concerned with guest health is how quickly buffet dining is eliminated as an option.
Q – Our cruise on Holland America was just canceled and we are now thinking about sailing on a smaller ship with fewer than 1,000 guests. We wonder if they are really better able to avoid virus outbreaks? They cost more so we wonder if anyone can certify that they have better cleaning procedures in place? We work with an agent here in Brookline but are wondering what you are advising your clients booked on Princess and Holland America. They seem to have most of the problems and they are owned by Carnival so we wonder if this is a company to avoid since they may be headed for financial trouble based on some of the cruise boards we've been reading. I appreciate the straight talk on this site. It is extremely helpful.
A – In the interest of time, allow us to respond using bullet points as you have posed several good questions:
The statistical evidence that smaller, more upscale (keyword) ships are safer from this type of virus is found in the fact that not a single one of the www.cruisetruth.com Top Ten-Rated cruise lines have had any major issues with Covid-19. All of the ships where the virus spread were larger, multi-thousand passenger ships. These top-rated ships carry far fewer guests, a more upscale demographic, provide much more on-board space per guest, and a significantly higher crew to passenger ratio which makes for better cleaning procedures. That said, the virus can strike anywhere because it is not being produced on cruise ships – it is being brought aboard by infected passengers. So screening procedures are critical.

We are not advising our clients booked on Holland America or Princess because we limit our services to the world's top ten lines. When you say "they have most of the problems" be careful about accuracy. They certainly have the most negative "impressions" from the media. But in virtually all cases, Covid-19 was brought aboard the ships unknowingly by visitors who picked it up in China or Europe. Don't think that the virus was produced or "manufactured" on-board.

Carnival is, so far, keeping most of its ships in what is called "Hot Lay-Up." This means that ships are operating, while tied up, with a complete deck and engine crew on standby and a fairly large hotel crew largely doing maintenance, deep-drill cleaning, and some serious renovation along with cosmetic touches. It has been estimated that Hot Lay-Up could cost Carnival somewhere around $2.5 Million per month per ship. They have nine brands worldwide and just over 100 ships. We are less worried about Carnival than some other, smaller brands in the industry. They have secured the short-term cash infusion they need and they have said publicly that they do not feel that they need government subsidies.

"Based on some of the cruise boards we've been reading" – Be careful here as the majority of what you are reading is written by people who have no connection to the industry and are not in a position to speak personally to top-level executives about issues related to future planning, itinerary changes, and crew and air deployment matters. Usually, professionals in the industry laugh a good deal at what appears online as "cruise critiques". But in this situation, where we are experiencing a true pandemic, amateur commentary and misguided opinions can be harmful in the extreme.
Q – We have a river cruise on Viking along the Danube booked for the last week in June. Is there any indication, at this stage, as to when the cruise will operate? Any odds so we have an idea of what to do?
A – Riverboats, as a rule, lose money if they are under 70% occupancy. This is particularly true of Viking which depends for much of its income on on-board spend generated by full ships. Our current estimate is that any sailing during the last month in June has about a 40% chance of operating. But that is really an estimate as so much depends on the lines gaining authorization from the small ports along the way to, once again, disgorge passengers ashore while the line operates a full schedule of shore excursions. This is still iffy and we believe that there will be major disruptions and cancellations to cruising schedules in Europe lasting through much of the summer. Keep in close contact with your travel consultant for updates.
Q – We have a summer cruise to Europe planned and paid for. We are scheduled to sail from Barcelona to Venice in August. Will this cruise sail and why can't we get a definitive answer from Oceania?
A – All of the top-tier lines are handling the timing of canceled sailings in much the same way. They collect data, speak to their teams ashore, look at the availability of airlift, and, of course, the projected health forecast and they make their decisions. They tend to work one to two months ahead. So, as you read this, announcements will be coming out referencing sailings in May and early June. We would not expect to see any announcements regarding the cancellation of sailings much beyond that. Canceling a sailing and having to offer cash or Future Credit Discounts that are substantial is not something any line wants to rush into unless absolutely necessary.
Q – So what is your primary advice for those of us who were planning on traveling on a cruise or an escorted tour later this summer? Do we make final payment?
A – As you can imagine, there may be exceptions in anything we are going to recommend, but our best advice is to make your final payment and wait for the cruise line or tour operator to cancel your trip. In that way, you will avoid cancellation policies and be eligible for a future travel offer that will likely get you all of your money back along with a financial reward for your patience. Most travel suppliers are assessing cancellation fees for sailings that they have not yet canceled. This policy is quite rigid and we have not seen exceptions. Over the past two weeks, we have seen guests walk away too early with no compensation while those who waited for the official cancellation are generally being offered several options including refunds and future credits. In this scenario, it is always going to be better if you are paid in full and then wait for the program to be canceled.
Q – Going on web sites, it appears that all of these travel companies, both the tour companies as well as the cruise lines, are gearing up for a normal summer in Alaska and Europe. We just had our Oberammergau Tour canceled and we are waiting for a revised itinerary which we probably won't take. Will we have the option to get our money back?
A – Not necessarily. Technically, the tour company did not cancel the play, it was canceled by the Play's organizers who have pushed it back to 2022. If you decide to cancel, some tour companies will give you a full refund but many are only offering future credits. We are seeing that with cruise lines as well. That has a lot to do with cash-flow issues as no company wants to cope with being closed down for several months while, at the same time, refunding substantial cash refunds to guests. This may seem unfair but it is also an economic reality. Every company with whom we work is making attractive offers in cases where they cancel a departure.
Q – If nothing is canceled so far this summer, do you think things will be back to normal in the next two months? Can you give us a general picture of where things stand in terms of back-to-normal travel?
A – Everyone is watching the Canadian Rockies and Alaska. Scandinavia may experience rapid recovery. If the Alaska and European cruising/touring seasons are effectively canceled, we will see some major changes in the travel landscape. Many countries in Africa, particularly central Africa have not yet seen major outbreaks. Several countries in Central and South America have, thus far, escaped the outbreak. But we think that the Southern Hemisphere may be the next area to undergo a wave of outbreaks. Antarctica is currently virus-free but treatment facilities do not exist.
Personally, we think that associating the phrases "normal" and "60 Days" is way off course. We are really hoping that we will all get to sit together around the Thanksgiving Table late in November and have something to celebrate. If the trials involving both treatment and a vaccine that can be a cure-all work out, eight months is a best-case scenario.
Q – Is the Cruise Industry the hardest hit sector of the travel industry? What about other portions of the travel industry?
A – It has taken an unprecedented financial hit but there are several other sectors that are of greater concern at the moment:
Meetings and Convention Planning – This portion of the industry has just stopped in its tracks. No organization wants to gather in a giant auditorium or convention center for an annual or quarterly meeting. Some of the very top firms in this sector are trying to adapt to video-conferencing etc. but that is a really competitive space.
Corporate Travel – In-person travel has been replaced by Zoom, Skype, and other apps. that can run on any digital equipment. It will be a while before corporate travel execs will fly out to meet with clients. Businesses seem to have little interest in bringing employees and clients together in large gatherings. Salespeople have quite literally stopped the practice of flying to visit clients.
Sports/Festival/Special Event Planning – It may be several years before companies in these fields are able to operate on a viable level where people are, again, comfortable attending large events.
Travel Agents – Over 90% of the travel agents in the United States work on commission and are not paid a salary. There will be closures and there are estimates that 40% of the outside agents in America will be displaced by this crisis. We do not employ travel agents at our firm.
Hotels – There is something called "Revpar" which measures the financial return based on hotel room occupancy. The last report we've seen shows Revpar, quarter to quarter comparisons down to 29% from 64% last year. That is not a sustainable figure for small hotels and larger independent properties. The average cost of a hotel room in the United States was $93 last quarter.
Airlines – The airline industry has seen steady profits for more than a decade. The industry has saved on lower fuel costs and the imposition of new fees that have added Billions to the bottom line. Now, flights are half-empty and many routes are seeing heavy consolidation and cancellations. But the good news for airlines is that they can furlough labor and they can park their planes. So they can save both fuel and labor costs.
Q – Are there cruise lines or tour operators that will likely not be around next year that C&T Guests should avoid booking?
A – That is part of the reason you come to us. Virtuoso's financial vetting process and our own stringent Preferred Supplier requirements, help assure that you are always in the best possible hands wherever you travel. The cruise lines we are concerned about will never be offered to you as an option. That said, here are a few observations that we hope are useful:
Some industry analysts are concerned about Royal Caribbean, an extremely well-run company. Concerns center around the fact that RCI has six new ships on order along with multiple new ship orders for its other company brands which include Celebrity, Azamara, and Silversea. This is a staggering financial commitment at a time when many are urging a more conservative financial approach. Viking is another line with a large number of new ships on order.
Our major concern is for smaller, destination in-bound experts. We worry about some of the operators, for example, in Asia and Europe where high-end inbound travel has come to a complete standstill. There are also numerous smaller companies that handle shore excursions and daily travel arrangements for tour operators and cruise lines. Will they be able to survive a prime summer season with their best clients curtailing operations?
Q – We are booked on your July 6th Signature trip to Iceland including Tauck Tours cruise with Ponant. Can you give us an update as to where this trip stands at the moment?
A – It is fair to say that there is uncertainty about our program this year. A lot of positive things would need to happen for us to operate this program comfortably.
The final payment was due on April 2nd. We have gotten Tauck to agree to push back everyone's final payment date until June 1st when we will know, for certain, if this program can operate without any virus-related health concerns. We will be in touch with everyone before then with updates.
Q – We know we will be traveling again in 2021 for sure. We are already anxious to get out of the house and hop on a plane somewhere. Are there places we should be considering for travel this year?
A – Right now – we want you to stay put and limit yourself to travels of the mind. Take Virtual Tours, tour museums online, walk city streets all over the world on you-tube, read some of the better full-time international travel bloggers as they tour the world is stressful times. But we don't want or advise any of our clients to consider travel within the next 60 days as a bare minimum. It is not safe to travel and anyone who suggests otherwise is a paid shill for some travel enterprise.
We have been booking clients on some of the Christmas Market River Cruises in late November and December, but more than 90% of the new bookings coming in and being discussed are for travel next year.
Q – Would love to get your take on the long-term impact of the virus and its current impact on the travel industry. I suspect there will be different long-term impacts on different segments of the industry. Some segments may benefit from pent-up demand and bounce back to some level of normalcy. I fear the lower-end cruise industry will be hurt the most. Regent-type cruisers will be back once the world-wide COVID-19 impact becomes a memory.
A – We have a somewhat unorthodox view of this. We think that the actual number of potential overseas vacationers from the United States is a wildly inflated figure. Look at it this way: About 76% of adult Americans do not have a passport. Half of those who do, have a passport primarily for the purpose of job-related travel. Another large portion of the 24% who do have a passport use it to visit with relatives overseas. That brings the potential number of travelers down to an estimated 10% of the population. Then you need to look at travel to Mexico and Canada. It is estimated that at least half of current passport holders have travel to those two countries as their primary reason to have a Passport. That reduces the potential size of the international travel market to about 5% of the population. Then of that 5%, a hefty portion, research shows, obtained a passport because they are now required for packages and cruises to the Caribbean. That reduces the potential market for upscale cruising and overseas travel to about 3% of the population. We don't think, adjusting for error, that any more than 3%-6% of the adult population in the United States has the desire to vacation on a quality product overseas. What is really interesting about all of this is that when you ask the 76% of Americans who do not have Passport if they are intending to get one, well over 90% respond "No".
So, that said, we think that the entry-level cruise lines like Carnival, Norwegian Cruise Line, and Royal Caribbean could well rally even earlier than their more upscale divisions that sail to destinations that are often further away from home and more exotic.
We just interviewed Ten highly regarded travel agents across the country and all but one reported surprisingly strong advance bookings, even now, for 2021 sailing dates. We are experiencing strong bookings for 2021 including several Around-The-World by Private Jet and Cruises. Africa bookings are ahead of projections and some camps are booking up during the popular summer months.
Finally, we think that, what we call, "The Petri Dish Syndrone" needs to play out. It is there – no doubt. How many millions of marketing "impressions" were made of the stranded Diamond Princess and what will be the long-term effects? No one knows. Will the educated travel consumer come to see hotels, grocery stores, movie theaters, churches, schools, and office buildings as "Petri Dishes" with crowding statistics that are often far worse than what you would find in normal accommodations aboard one of the Top Ten-rated cruise lines that we exclusively represent? Eventually – but not right now.
As to your mention of a Regent ship; let us respond this way: If we had to leave tomorrow for Europe would we prefer being on a 42-Passenger bus tour, staying in a 300-room city hotel with guests from all over the world while dining who knows where, or sailing a Regent ship with a minimum 300 sq. ft. cabin, low density, fresh air that enters the room from our balcony, and an on-board medical team? The answer for us is easy. And please note that, despite what you have seen on your screen, not a single one of the top-ten cruise lines have, thus far, experienced any major Covid-19 related issues. Sorry for the long response.
Q – We take your advice because we don't really have access to how these companies are responding to this crisis in terms of their flexibility and customer-friendly policies. In my former industry, we always said that you can judge the worth of a company and its people by how they perform when things are not going so well. So, we are curious, which companies that you work with are handling this really well and which ones are not? This can help your clients going forward.
A – There are about an equal number of companies that have stepped up in terms of reasonable options for canceled departures as well as the manner in which they have responded to us on behalf of our clients. Among the companies deserving of special mention during this crisis, we would include:
ABERCROMBIE & KENT

AMA WATERWAYS

CRYSTAL CRUISES AND RIVER BOATS

SEABOURN CRUISES

VIKING CRUISES
Q – It is now late March and we have a tour scheduled to Italy the third week in June. That is less than 90 days away. Shouldn't we know by now if Tauck is going to operate this tour or cancel? We can't see how it can possibly operate given the lockdowns in large cities in Italy. Friends are in the same situation with their early June Silversea cruise to Russia and Scandinavia. What is going on here? Why won't our consultants or these companies tell us if we can travel or not? It seems as though the travel industry is in a state of confusion with no one able to make a decision about anything.
A – We fully understand how you would feel that way. And you're not alone. The key here is understanding the logistics of managing the movement of a tour group or a ship, staffing, guarantees from ports and hotels as well as airport officials that entry will not be hampered. This is the most challenging human chess game ever played and there is no precedent for most of what is now taking place. Every executive of every cruise line, hotel chain, and tour operator is in constant meetings trying to get specifics, commitments, and alternative plans from overseas offices and contacts.
Stock prices have tanked, as you know, and a few of these companies are planning for their guests while also trying to figure out how to assure their own survival.
No one in the industry knows when Covid-19 will be under control. Dr. Fauci does not know and our political leaders certainly don't know. The planning in the tourism sector seems to be based on good news and improvement, with medical applications, being introduced this summer or early fall. Most don't think the crisis will run into 2021 – but some do.
For now, it is important for all guests to understand that logistically it is important for all of these travel companies to work on imminent programs first and then work backward in terms of planning, operations, and guest policies. Almost no company we know is making decisions much beyond April or early May given the several scenarios that can occur. For that reason, tough as it may seem, patience is going to be necessary for a little while longer.
Q – We are booked on a cruise to the Greek Island in September on Seabourn. We are taking your advice to wait until Seabourn announces the cruise will proceed or that they are canceling, in which case we would expect a more generous offer than if we cancel now. But if that happens, what about the air we did on our own and the insurance we did through Travelex?
A – The air cancellation penalties would be up to the airline and you would need to contact them directly. Most are allowing cancellation but a lot depends on whether or not you booked a refundable or non-refundable fare The airline's "Contract of Carriage", the fine print you agreed to when you purchased your ticket, gives them great leeway to handle cancellation as they see fit in this kind of emergency.
Travelex is excellent insurance and you may be eligible for a clause that allows you to move your policy over to a re-booking next year or later this year.
You are doing the right thing by waiting. It is always best to have the cruise line cancel a sailing instead of jumping the gun and exposing yourself to stated cancellation policies.
Q – Why doesn't Princess Cruises, along with some of the other large cruise lines, defend itself against all of the anti-cruise stuff we're reading? We couldn't believe the Bill Maher rant on his HBO show last week calling for the end of the cruise industry and saying that cruise ships are "floating Petri dishes". Why doesn't the industry fight back and, with your online voice, why aren't you all more aggressive in fighting the anti-cruising stereotypes? We've been on 27 cruises and we'll keep going as long as they let us. The people who got infected can be traced to passengers who had originally spent time in Wuhan, China. What are you telling people about cruising at this moment – are you telling people they should not be cruising? Is a hotel room any cleaner or safer? Is a bus filled with tourists any better? Is a church filled with parishioners and/or tourists any better for your health prospects?
A – There are about seventeen good questions in there – although some of those require medical expertise that we don't have. So, let us respond to you with just a few observations:
The challenges of keeping a cruise ship illness-free are more difficult when you are caring for 3,00 guests that when you have fewer than 700 guests. Not one of the world's top-ten rated cruise lines has had any reports of a Covid-19 Outbreak. That is the story that is underreported.

The Diamond Princess was on the wrong itinerary at the wrong time. The ship was in Asia with a heavier-than-usual contingent of guests who live in China or who were traveling in China and/or Japan.

The ratio of medical staff to guests is significantly better on a smaller, upscale cruise line. The medical services are more personalized.

Your analogy of a hotel room to a cabin aboard a hotel that manager to float from place to place is a good one. Mass-market cruise lines have a proportion of inside, windowless accommodations. On the top-tier lines, the vast majority of staterooms have balconies with doors that open allowing fresh air into the cabin. We think this is important in terms of good cruise health.

The "petri dish" comments we are hearing are generally stated in anger and unfairness. Is a movie theater, a mega-church, a grocery store, or a school a "petri dish"?

The crew to guest ratios on cruise ships are significantly higher than they are in hotels. Cleaning of public areas on the top tier lines is constant and generally exceeds CDC guidelines. It really all boils down to the boarding process and the level of testing for the virus passengers must experience. All of the lines have learned valuable lessons in this regard.

Tours, like cruise ships, serve a variety of demographics. Now, more than ever, we think that choosing tour "brands" is important to maximize the chances that proper precautions are being taken during touring and in accommodations used throughout the route. Some would argue that keeping your cruise stateroom clean is an easier task than micro-managing the cleaning of six or seven hotel rooms and a dozen or more restaurant settings along your tour route.

Princess Cruises has taken one of the hardest PR hits of our time. The Diamond Princess story will be repeated in Graduate School Marketing classes for the rest of our lives. At this point, Princess needs to avoid the urge to "fight back". Much of their financial story will rest on the outcome of this summer's Alaska and Europe Season. And those are, at present, unknown.
Q – We have a cruise planned to Iceland later this coming summer. The sailing will be aboard the Ponant line. We know they have canceled several of their itineraries including sailings in and out of Japan. Is it likely this August trip will operate? We are traveling with another couple and they are depending on us for information and we are not getting any specifics back from the line. We have no agent – is there someone else we should be speaking to? And is it true that there is no Coronavirus in Iceland?
A – Your situation is one of self-imposed ignorance. You are telling us that you made a conscious decision to pay the travel agent commission to Ponant without receiving the kind of knowledgeable advice that payment should represent. But that's OK – let us try to help you.
Coronavirus has come to Iceland but there are no serious cases thus far and the country has had time to make medical preparations should the situation worsen. A woman in her forties was diagnosed this week with the COVID-19 virus in Reykjavik, Iceland. Currently quarantined in her own home, she arrived in the country on an Icelandair flight from Munich but had been skiing in northern Italy. This is the third Icelander, as this is written, to be diagnosed with the virus.
According to the health coordination center, a man in his fifties was the second who was reported to have the virus. The prognosis for both people looks fine, but they show typical symptoms for the disease. Everyone who has been diagnosed with the virus resides in the capital area, but about 300 people are now quarantined in their homes in the capital. Most of Iceland is remote so it would be difficult to the disease to spread as it has in urban centers around the world.
It is very hard to know if your trip will operate as some medical experts seem to feel that we will have a good handle on testing and treatment within the next three to four months. (This is written on March 23, 2020) Speaking to commission-based sale people in a cruise line res center is not going to get you the best information. Ponant is a particularly difficult company to finesse because decisions about ship deployments are currently being made by an executive board based at the company headquarters in Marseilles, France.
Q – Currently booked to Antarctica in December of this year. Do you see any reason why we might consider canceling at this time? We are in our mid-sixties and I am a hiker. My wife has had lung cancer but is a survivor. Doc seems to feel the trip is OK – going with National Geographic. They keep telling us that the trip will operate. We do have cancellation insurance. Most interested in your opinion regarding the likelihood that this trip will be operating.
A – Everyone who is currently living in Antarctica is enjoying a form of "No Choice Isolation" within small groups. Before boarding your ship, we expect you will be fully screened for the virus. But December is a long way off and no one can give you definitive information. We think you were wise to consult with your doctor before this trip. Antarctica is one of several places that have not had any Covid-19 reports. We would go and we would bring our children with one important caveat: We would want to know precisely what our air arrangements were going to be and we would want a sense that flights would still be operating. Given the likely routing, that is not at all certain. Have your travel consultant provide periodic updates on the air situation beginning three months prior to your scheduled departure.
Q – We are booked with Viking River on an August river and land program that is supposed to include the Oberammergau Passion Play. Will it be operating? We've heard nothing.
A – It will not be operating. The Passion Play is being re-scheduled for the summer of 2022. Viking is currently working on adjusting all of their Passion Play inclusive itineraries on both land and in conjunction with their riverboat departures. This can be a lengthy process. You need to discuss your situation with your travel agency to make a determination if canceling now or waiting is your best option. What you do will also depend on who arranged the air and what cancellation penalties might be associated with your booking.
If you made your booking with directly with Viking and paid the travel agency commission anyway, we can only wish you good luck. Our suggestion is to communicate with the Customer Service Desk in writing. You should have it all straightened out by the time the Play actually is staged.
Q – If we had planned on going on an escorted tour operating in April and it was canceled because of the Coronavirus, would the tour operator we were going with be responsible for reimbursing us for our air costs? We're flying Delta in Business so the costs are close to $9,000.
A – Unless your air is part of the canceled tour operator package, it is highly likely that you will be responsible for all cancelation fees.
Q – We notice in answering these questions that there seems to be a fair amount of equivocation. I feel like I want specifics. Our situation is that we are about to cancel a September cruise round-trip from Barcelona. We have no interest in visiting Spain now that the Virus has hit them hard. But our travel agent says they have not yet canceled the sailing. So how do we get information? They wouldn't talk to us when we called Oceania.
A – We are getting many questions related to the lack of available information. This is, of course, an unprecedented event for which no airline, hotel, cruise line or tour operator could be fully prepared. The most important thing for you to understand the process is that the cruise lines are working each sailing in order. Right now in Europe, for example, policies have been formulated for most sailing in the next 60 days. Beyond that, lots of decision-making and discussion will be based on the most up-to-date information. The truth is that most cruise lines in March or April will not know what they will be doing this summer. A number of ships will likely just be drydocked.
Strategize with your travel consultant to see whether or not it would be wise to wait for Oceania to cancel your sailing or if you should just pull the plug now. We do not see summer European schedules operating normally. Nothing impactful on the spread of the virus will happen that quickly. As to why they won't speak to you – it is protocol in the industry for suppliers not to talk directly to guests who are being counseled by an approved travel professional.
Q – We just exercised an option to cancel a Crystal cruise. We have been given full credit and we are re-booked on the same itinerary next year. But we can't seem to get any paperwork from anyone, Crystal or our TA, showing that the original payment has been moved over. As a CPA, I kind of like to have a paper trail about large expenditures. I lover in Manhattan, am I being too aggressive?
A – In this case – perhaps yes. The travel suppliers have not programmed their software to handle the level of changes the company is handling. Accounting is likely overworked and short-staffed given the current needs to re-book large portions of the existing bookings on record. Pricing and credits, along with air and pre/post-cruise arrangements have to be factored in. This is, to put it mildly, a CPA's worst accounting nightmare. Refunds and adjustments will take two to three weeks longer than usual. We're sure you can understand this.
Q – Let's suppose I am booked on a cruise or tour to Italy this fall and the Center for Disease Control advises that Americans not travel there, am I automatically entitled to my money back from the tour operator or cruise line? I am actually booked on a cruise and am curious as to how the rules on this work.
A – There is no law that requires a cruise line or a tour operator to give you either a full refund or a future travel credit. This is covered in the supplier's "fine print" and is usually known as the cruise line "Agreement". Anything offered to guests is legally considered an "Act of Goodwill".
Q – I have been on a total of 29 cruises and I am planning on going on many more. So you can imagine how I felt when the government of the United States started advising citizens to "avoid cruises". What is the real reason they are doing this? I can't figure it out. Can't they just avoid the riskier ports?
A – It will be interesting to see how the ad agencies for the major cruise lines deal with the ultimate public relations nightmare. This will be studied in Marketing classes at universities for many years to come. The issue on the ships is less about the departure ports than it is the idea that large numbers of passengers and crew are gathered under the roof of one hotel that has the unusual ability to float. This virus loves gatherings of people. The ships in the news are all "High Density" vessels. There are mathematical formulations for every ship measuring the amount of public space per guest. Just imagine, you are walking around a typical Carnival cruise ship. And everywhere you walk there is an imaginary box of space that belongs to you. On a mega-liner, that box might have about 20 square feet in it. If, on the other hand, you are on a low-density five-star line, that box could have up to 50 sq. ft. in it. So the amount of close contact varies widely and the consumer press doesn't really understand this. There is one cruise line, for instance, that only accommodates 100 guests, fewer than any riverboat. A lot of the CDC warnings are based on configurations of the world's most popular and largest budget cruise ships.
Q – The safest plan for our "paid in Full" visit to Scotland in April is to take out some cancel for any reason policy. Which is the policy you most highly recommend?
A – It doesn't exist. You are far too late to attempt to take out a Cancel for Any Reason policy. And if you still could, you would undoubtedly go through a period of "buyer's regret" when you realized that it was not going to cover the entirety of your visit. Most of these policies only return 50-75% of your total cost at a premium designed for the foolhardy.
Q – We booked an Azamara Cruise directly through the cruise line and our friends booked through a local travel agent. I noticed they got the same offer we did so what was the point of their paying for the agent?
A – Good logic – until it isn't. Yes, the buy-off, cancel offers would likely be the same in keeping with stated policy. But your friends should not have been charged a penny to use a professional agent and they now have an advocate for issues related to your new booking as well as the possibility of consortium group amenities. But if you enjoy being charged for services you are not receiving, such as the agent commission built into the price of every cruise, have at it. But these are extraordinary times in the travel industry and it might be wise to have someone who can contact executives at the line on your behalf in your corner.
Q – Would you advise us to continue on a trip we have planned for Spain in two months? We will be visiting Barcelona and areas along the Spanish coast including the island of Ibiza? We are in our early forties, in good health, and we love clubbing and dancing.
A – Well Spain is, as of this writing, in health lockdown mode. They are emulating the Italian model only more quickly. You might want to ask your physician if this trip is a good idea. Whether or not we would recommend it would have a great deal to do with your health profile, how you are flying, where you will be staying, and the types of activities you will be planning. If you are looking for a city that is packed in season and is a prime example of tourism overload, you could not find a better destination than Barcelona. If you are going to Ibiza for its nightlife, and we are guessing that you are, we would want to ask why you seem so anxious to be surrounded by international travelers in close proximity, who may be carrying more than a social disease.
Q – We are headed to Cape Town in the next two months for a long-awaited safari. We are going to both South Africa and Botswana. No one will convince us not to go – but you can have at it if you want. Our one question is wearing masks on the flight. We are having trouble finding them. Is this a necessity?
A – If you are in good health and your doctor approves, we think that, currently, southern Africa makes sense as a destination. But watch this carefully. We trust you are flying in Business or First on that long route. If you're not, change your seating to the front of the plane. Masks are not necessary unless you are a health care worker. In certain societies, such as Japan, wearing a mask is a kind of awareness fashion statement. But excessive hand-washing is still the way to go. Be safe and please make certain your physician has signed off on this trip.
Q – We are watching the news, seeing these cruise ships described as "petri dishes" and wondering how any of the passengers can put up with prison-like conditions as they are locked inside their staterooms. We have a cruise booked on a Holland America cruise ship called the Koningdam. They are a more upscale line than Princess but as this will be our first cruise we are hesitant. The cruise goes to Mexico on October 3rd. We are less worried about the ports than the passengers. Any advice would be appreciated. I think we may be overthinking this one. Our travel agent keeps telling my wife not to worry.
A – Holland America Line and Princess are both cruise lines owned by the Carnival Corporation. Holland America's ships, on average, carry fewer guests than a Princess ship. Your ship is the largest in the Holland America fleet at 2,605 Guests. Add to that, another 1,000 or so crew members, and you have a floating city of about 3600 folks. Many things will change between now and your departure date so it is hard to give you specific advice. But we are concerned about the size of the crowd. For now, we think consumers ought to limit their cruise options to any ship with fewer than 1000 guests. This will generally place you in a higher category of ship but we think that is exactly what you want to do. You want to be surrounded by fewer folks and a group with higher-than-average medical care, the kind of fellow-travelers who would be more likely to seek out competent medical attention if they had any symptoms of the virus. Sounds snobby but in this kind of crisis, we'll risk it.
Q – We have a nice trip planned this September to Costa Rica. If the tour operator we have booked decides to cancel the departure are we automatically entitled to a full cash refund?
A – That is a bit more complicated question than it might seem. The air part of your trip would have to be refunded in cash as part of the airline's "Contract of Carriage". But that is the airlines. In fact, tour companies, resorts, and cruise lines are bound by their "Terms & Conditions". Those Terms usually allow Future Credits to be offered instead of actual cash refunds. It is perfectly legal.
Q – We are booked on the Regent Seven Seas Voyager to Europe in September. I have been told that if I cancel within 30 days of my departure date, Regent will give me back a full refund in the form of a future credit that I can use in either 2021 or even 2022. This is part of something called the Regent Reassurance Program. Two questions: Will the refund/credit include the air I booked and what will happen to my insurance premium if I cancel?
A – Understand that any policy you or we reference may have changed, expired, or simply been thrown out if the implementation is proving impractical. Cruise line executives are in constant meetings, computer systems have not been programmed to handle the changes, and reservations staff internally as well as cruise sellers can barely keep up with the changes. So – that having been said, you must be paid in full to take advantage of this offer and you will automatically be placed in 100% Cancellation mode. So no cash refund of any kind. But you will get the 100% future credit and it will apply to both Regent's air and insurance programs. If you booked your own air and purchased your insurance elsewhere, those costs will not be covered by the Reassurance Program.
Q – From a travel industry standpoint, which destinations in the world seem strong right now compared to the complete slowdown of travel to Asia? Where are our neighbors headed on vacation? Any trends?
A – Well you'll find some of your neighbors waiting in lines at Wal-Mart for toilet paper, any kind of anything that says "Anti-bacterial" on the packaging, and cushions designed to help you slide under your bed in fetal hiding position. But most of your neighbors are still traveling. Travel agents are reporting upticks in travel closer to home such as Canada, the Caribbean, and Mexico. Spain and Portugal are seeing growth and travel to Africa remains strong. Cruises on American Rivers are selling out as are smaller, French barges and riverboats in Europe.
Q – Is there anything that we are not being told in terms of what we should be taking with us during our travels abroad or even in the US?
A – We don't know what you don't know. But we'll mention a pocket pen. Us it to press elevator buttons and to press keys on a banking screen. Avoid signing with your finger at the supermarket check-out. Carry a thick handkerchief and use it to grip stairs or door handles. Use a clean one each day. Carry a supply of bacterial wipes in a plastic baggie in the car. Do not go to China to play ping-pong this month.
Q – We are scheduled to go on a Regent Seven Seas cruise to Scandinavia and Russia in August. As a former hospital administrator, I have confidence that the Scandinavian countries will handle this outbreak considerably better than we will, sadly, in our own country. So my wife and I have no fear of going and we are really looking forward to the journey. I do wonder, however, if Chinese passport holders seeking to get away will be allowed to book and travel on our cruise. That could be a bit of a concern.
Q – Effective on February 20, 2020 Regent has relaxed its previous policy prohibiting guests holding a Chinese Passport from boarding its ships. This is in reaction to new, stringent immigration, customs, and health screening protocols and regulations in place around the world. This also applies to holders of Hong Kong and Macau Passports.
Q – Is there any way that we can know where the risk of the Outbreak is likely to be highest? We are scheduled for a 42-Day Cruise that will hit many parts of Europe, a bit of Asia, and even some of Africa. It would be really useful to know where the Virus is likely to hit next. Thanks so much. This Q & A approach is extremely helpful.
A – It is, of course, a bit of a guessing game. But there is solid, empirical evidence used by researchers at the University of Oxford and The London School of Medicine and Tropical Hygiene. They maintain something called the IDVI, the Infectious Disease Vulnerability Index which tries to measure a country's ability to manage a serious infectious disease outbreak.
This is their current chart showing places in the world they believe are of most concern in terms of a major risk for visitors:
Q – This Coronavirus is coming at a really bad time for our family. My sister is marrying a lovely gentleman from Buenos Aires in two months. We are all flying down for several days to attend. The immediate question involves our air arrangements which we must finalize this weekend. It looks like we can fly First Class for an additional $1900 per person. We're all in pretty good shape, including both my parents who will be joining us. Any advice?
A – Definitely for your folks. We are recommending the front of the plane for anyone over sixty on international flights. You can decide, after speaking with your physician, if you want to spend the money for the rest of the family. If you bought Apple stock five years ago, fly upfront. And do investigate what private jet might cost if there are more than five of you traveling. You might be surprised.
Q – We are booked on a Tauck Escorted Tour to the Canadian Rockies in mid -June. This Corona thing is making us nervous and we are thinking about canceling. We did pay Tauck a deposit and we have their insurance. How will a cancellation work and will we get all of our money back?
A – Final payment for your tour has been pushed back to 30 days prior to departure. Any guest who cancels after making final payment will have ALL cancel fees (including GPP/CPP premium) issued back to them in the form of a travel credit to be used on any 2020-2021 Tauck journey. Airline change fees will not be covered for guests who voluntarily cancel.
Q – Are there really differences between the cruise lines in terms of this virus epidemic or are they all pretty much the same? So far, all I am hearing about is Princess. Do they all share the same cleaning and sanitary guidelines?
A – Actually no. While all manner of media attention has been focused on the Diamond and the Grand Princess, the fact is that, as of this date, we have seen no reported instances of any virus-related emergency on any of the world's top ten ranked cruise lines. The mass-market lines, of which Princess is one, can provide a lovely non-inclusive cruise experience. Nothing wrong with pay as you go. The difference is not so much where the ship is headed but how crowded she is as she sails. Thousands of people on a giant liner are more susceptible to picking up a transmittable virus than those same people would be on something smaller, more intimate, with a significantly higher crew-passenger ratio. Of course, the issue with the headline garnering Princess ships has a lot to do with the timing and the fact that there were guests aboard who were connected to the virus during travels in China. That situation is now being addressed carefully on all ships.
Q – I am scheduled to depart Denver in July and will be flying, through Frankfurt, on to Munich and Zurich for an extended vacation. How do I know if my flights are canceled and what my alternatives are? I am flying Lufthansa but I don't know if the flights will operate. I booked the air directly with Lufthansa and they say the flights have not been canceled. Can I believe them? Will they protect me on other flights if they cancel?
A – You should go to the Lufthansa web site and make certain that your e-mail and cell numbers are listed in the appropriate profile boxes. Currently, and for the next month, Lufthansa is planning on canceling up to 50% of its scheduled flights, mostly within Europe. It is, quite frankly too early to work on this. Reconfirm your flights two weeks prior to departure. You can believe what they are telling you but do not assume that an LU reservation staff member knows what top-level operations execs are planning. Research your flight options and make sure that you have a second and third back-up itinerary ready to utilize.
Q – Which destinations are on the current government lists to avoid in the year to come?
A – No one can predict what the situation will be like even six months from today. It could be better, far better with the release of new medications now in trials, or it could be worse as we head into a serious pandemic with worldwide implications. For now, Americans should avoid all "non-essential" travel to China, South Korea, Iran, and Italy. These are currently "Don't Go" countries. If you are an older, 65 +, and "at-risk" traveler, you should also avoid travel to Japan.
Q – Leaving for a tour to Ireland next week and other than lingering at the various tasting tables at the distilleries I will be visiting, there are no changes to our travel plans. We'll be playing golf, just to be polite to the natives, and doing a fair amount of outdoor dining. But one member of our group told us last night that he was having a hard time finding face masks for all of us. What is the bottom line on that while traveling – appropriate or a pure rookie move?
A – Don't travel with face masks. They are largely useless among the general population. The only real purpose of a face mask is when you already have a respiratory illness yourself and you wish to avoid spreading it to others. Instead of a mask, practice the six-foot rule – stay at least six feet away from others if you are suspicious or if they are coughing.